Happy to announce to you the Akando Photo Contest winners!
1st place - Filip Duvnjak
2nd place - Yancey Anderson
3rd place - Marc Bouquet
Congratulations!
Thank you all for participating!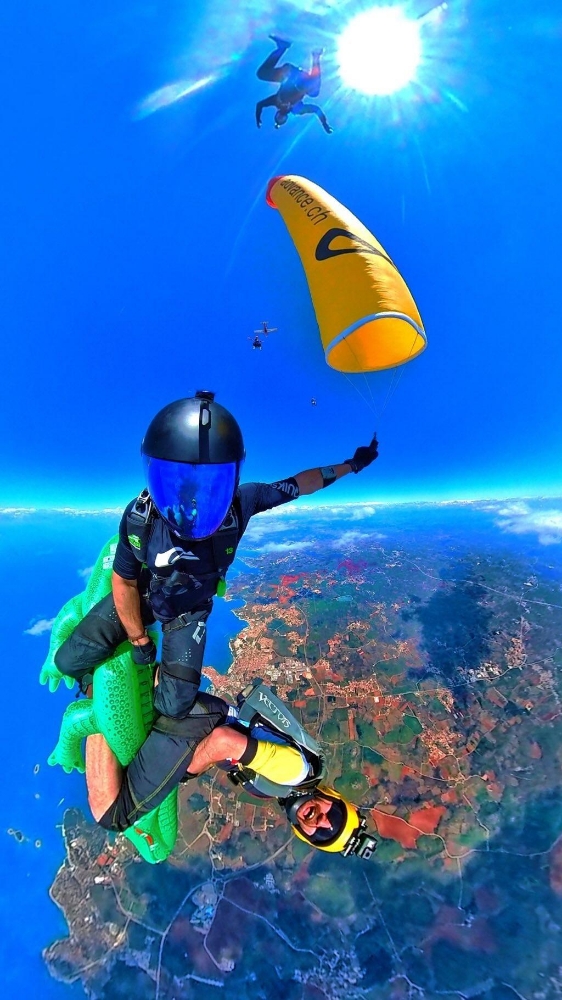 Foto credits: Filip Duvnjak
_____________________________________________________
Missing skydiving?
Scroll through your photo gallery and share with us your best skydiving photo.
Everybody wins this time!
UPDATE:
Due to great interest in Akando Photo Contest, we decided to extend the application period and to make the rules more accessible as well. Please, read all the following changes.
General entry rules
To entry the contest, send us your best skydiving to:
or
Extra chances for winning if you:
1. Like Akando page on Facebook and/or Instagram
2. Tag your photo with #akandoskydiving and #akandophotocontest
3. Your photo has our product with a visible Akando logo on it
The contest is open from February 15th until March 7th, 2023.
The best photo will be chosen on March 14th, 2023.
Good luck to all!
The Prizes
1. First-place winner gets an Akando Parachute Gear Bag.
2. Second-place winner gets an Akando Helmet Bag.
3. Third-place winner gets a Cordura Ultralight Backpack.
4. Each contest entrant will receive a coupon with a 20% discount for the next Akando purchase.
5. Prizes will be shipped for free.
ENTER THE CONTEST NOW
CONTEST RULES
Please read these rules (the Rules) before submitting your photo(s) to the AKANDO Photo contest. By participating in the contest, you understand, acknowledge, and unconditionally agree to abide by the Rules.
Below you can find the general entry rules, alongside information about the judging process, prizes, and verification process.
Terms and Conditions
1. Submissions will not be accepted once the deadline lapses.
2. There must be no border(s), logo(s) (except Akando's), copyright marks, identifying marks, or any other visible references and/or marks on the image.
3. Basic editing, including color enhancement, the use of filters, and cropping of the Photo(s) is acceptable, provided any such editing does not affect the authenticity and/or genuineness of the Photo(s).
4. Advanced editing, used to create illusions, deceptions, and/or manipulations, and the adding and removing of significant elements within the frame is prohibited.
5. Every image uploaded is subject to a moderation process before it becomes visible on the contest page. AKANDO reserves the right to assess and disregard any submitted photo at our discretion.
6. Photos that portray or otherwise include inappropriate and/or offensive content, including provocative nudity, violence, human rights and/or environmental violation, and/or any other content deemed to be contrary to the law, religious, cultural & moral traditions, are strictly prohibited and will be immediately discarded.
The Judging
1. AKANDO will appoint the judge/judges for the contest. This will be composed of members of the editorial team and/or external judges.
2. The judging panel shall assess and determine the winning Photos. The results and the winners will be announced on webiste and social media accounts.
3. The decision of AKANDO's judging panel will be final and binding on all Participants concerning all matters relating to the Contest.
4. AKANDO reserves the right to call for original JPEG or RAW files with unchanged EXIF for authentication. An image may be disregarded if this information cannot be provided.
Intellectual Property Rights
1. Submitted photos must be original, created, and/or taken by the contestant. It must not contain any materials owned or controlled by a third party for which you have not obtained a license, must not infringe the copyright, trademark, moral rights, rights of privacy/publicity, or intellectual property rights of any person or entity.
2. AKANDO respects photographers' copyrights and copyrights shall remain vested with the creator of the image. Upon submitting, you grant AKANDO, a worldwide, non-exclusive, royalty-free, sub-licensable right, and license to use, publish, reproduce, display, perform, adapt, create derivative works, distribute, have distributed, print, in whole or in part, in any form, in all media forms now or hereafter known, to promote the contest, image, the photographer or for editorial or educative use.
3. The Photographer will be credited wherever the image is used.