Our trademark brand: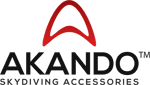 Akando represents specifically designed and produced sport accessories for adrenaline based sports like skydiving, base jumping, paragliding and winter sports.
Sorano d.o.o. (Ltd.) is a company based in Croatia (EU) which designs, produces and sells different types of specialized sports equipment.
We personally use most of our products and for ourselves as well as for our customers, we demand and offer top quality products. Beside quality, we offer affordable price and our worldwide customer satisfaction guarantee.
Your satisfaction is our priority!